10 Amazing Almond Oil Benefit For Skin, Hair And Health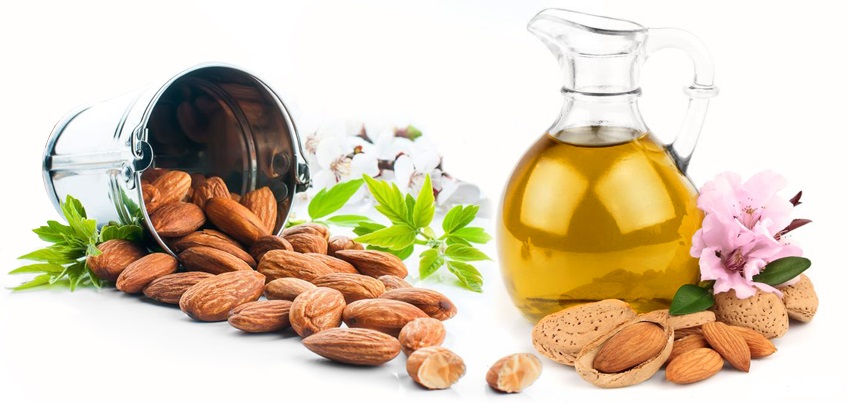 There are many benefits of this oil which comes from delicious tree nuts. It is a common ingredient in skin and hair care product and is very good for your health, too. So, it's time for you to reconsider almond oil health benefits and how you can use it as a multipurpose, natural beauty treatment. Let's see how your skin, hair, and health can benefit from almond oil.
Almond Oil Benefits For Hair
1. Controls Hair Loss
We lose hundreds of hair strands every day, and that's the ugly truth. However, that doesn't usually affect the volume of your hair unless you start shedding a lot of strands. This is probably to do with stress, pollution, hormonal imbalance or nutritional deficiencies. But we have got an answer to your worries, almond oil! The oil is rich in calcium, magnesium, and zinc which will nourish your hair to achieve their full growth. Massage your scalp with one tablespoon of warm almond oil after you have a head bath. Follow this routine to get a healthy mane.
2. It Makes Your Hair Long And Shiny
Sometimes using a shampoo can strip off your hair of its natural oils. This can affect your mane and cause breakage and split ends. That's when almond comes to the rescue. It works to repair the sheen and texture of your hair by restoring the protective oil layer of your hair locks. You just have to apply and massage this oil twice a week. After massaging, wrap a hotel around your head for 20 minutes. Follow this process to get long, shiny hair.
Almond Oil Benefits For Skin
3. Remove Dark Circles Like A Pro!
We all love pandas! Pandas are cute, but having those panda looking eyes yourself is not cute at all. Instead of depending on concealers or using expensive eye creams, you can go all natural with almond oil. It'll not just help you in getting rid of the dark circles but also reduces the under eye puffiness. All you need to do is take a few drops of almond oil on your fingertips and gently massage it over your dark circles.
4. Prevents Acne And Blemishes
Almond oil contains fatty acids which help in dissolving impurities and absorbing oil that leads to acne which might leave scars. It also works as a natural moisturizer and prevents your pores from getting clogged. All you need to do is scoop the pulp out of ripe avocado, and mash it up in a bowl. Add some honey and almond oil to it. That's it. Now apply a thin layer of this mask on your face before going to bed. In the morning, wash your face gently with lukewarm water.
5. Reduces Stretch Marks
Almond oil has emollient properties and incorporating it into your skin care regime can tighten the skin and improve blood circulation. This, in turn, will help reduce the appearance of stretch marks on your skin. You can start by applying almond oil over your stretch marks at least twice a day, massage it in a circular motion. You will notice the first sign of results in approximately a month's time of application.
Health Benefits Of Almond Oil
6. Boosts Immunity And Aids Digestion
Consuming almond oil helps to make the body strong to be able to fight various infections. Also, it is an effective laxative that helps to aid digestion.
7. Rich Source For Vitamins, Minerals, and Antioxidants
Almond oil is rich in vitamins and minerals like Vitamin E, D, calcium, magnesium, fiber, potassium etc that helps to cure various health issues like colon cancer, heart disease, age-related macular degeneration and many more. One must consume it to live a healthy life.
8. May Aid Weight Loss
Adding almond oil to your food helps to lose weight naturally. It is one oil that provides right kind of fats like monounsaturated and polyunsaturated that can be really beneficial to lose weight and for body composition in obese women.
9. Keeps The Heart Healthy
Almond oil contains 70% of monounsaturated good fat that is proved to affect our heart health. It increases the levels of good cholesterol in the body and takes the bad cholesterol away from the arteries and take it to the liver and gets excreted from the body that helps to protect a human body from heart diseases.
10. Beneficial To Control Blood Sugar Level
Consuming the food that is made in almond oil helps to control blood and sugar levels in the body. As almond oil contains monounsaturated and polyunsaturated good fats that are known to benefit the overall health. In fact, you can replace carbs with unsaturated fats that are known to lower the blood sugar levels and improves insulin resistance.
So, these were the 10 amazing benefits of almond oil for skin, hair and health.